Steel Column Repair
Industrial manufacturing and warehousing are competitive industries. Rapid operation of equipment for material handling, organization, shipping and receiving is necessary for businesses to remain competitive. When training new staff with forklift operation or even seasoned operators accidents can happen causing damage to structural elements vital for operational facilities.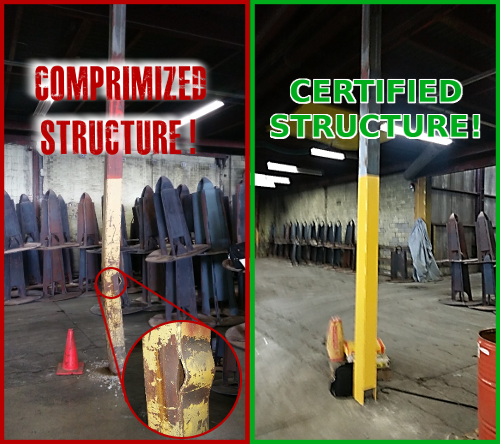 Posts Repaired using Monast Special Methods
Rapid Repairs Scheduled to Minimize Operational Disruption
Column Load Capacity 100% restored
Structural Connections N.D.T. Verified
Column grouted onto Foundation Pier
New Foundation Anchor Bolts Installed
Structural integrity can be compromised from a single heavy equipment impact or by gradual and/or occasional friction over a extended periods of time. Do not wait for a major failure causing unexpected and costly disruption to your facility's productivity.
Call Monast today to set up an appointment. The Monast Team is ready to inspect structure, develop plan and execute repairs in a timely manner to return the integrity of your building to provide piece of mind.
---